From Eyesore to Shining Star
---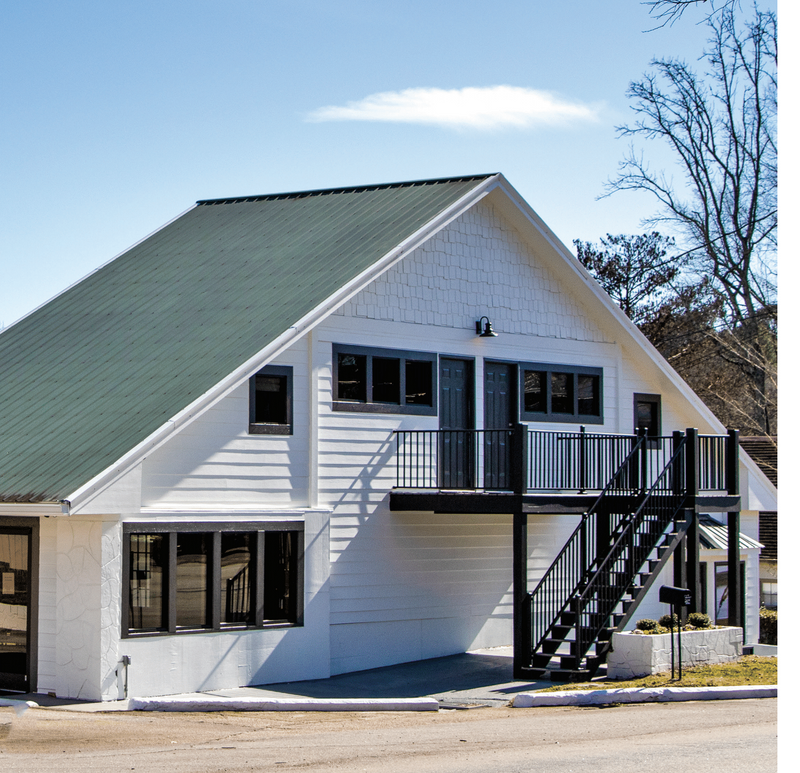 Old Waters Inn Helps Revitalize Downtown Wedowee
When like minded people come together for a common goal, it is amazing to see what happens. It also takes a huge dose of imagination to turn an eyesore of the town into one of its crown jewels. Old English Inn first opened in 1956as the Tower Motel, but without any major renovations since the 1980s, the motel was in desperate need of attention. The business had been for sale for quiet some time and a random conversation with another business owner got the ball in motion, so to speak. "I had an errand to run after lunch and Greg tagged along," Kim Frandsen said. "I was dropping paperwork off at Hunter Bend and it was when major renovations were happening where Lake Wedowee Winery is now. "Greg, being nosy, he got out, and when I found him, he and Crystal Barnes-Key were on the top floor of the building looking out the windows and talking renovation. "He nonchalantly asked about the motel and Crystal thought it was still for sale, even though it was no longer listed with an agent. "We got back on the street and remember looking at Greg saying Absolutely NOT! We are not buying a motel," Kim said. "I went back to work and thought he went home." He didn't. Instead he went to Gene and Ramonda Crouch's office and asked more about the property. "What's crazy is we had been looking at the motel about a week before," Ramonda said.
The Crouch's had sold a lake lot and Ramonda asked Gene what he wanted to do with the proceeds "He said I don't know what are you thinking? I looked at him and said do you want to buy the old honeymoon suite?" she said. Gene and Ramonda got married on Lake Wedowee in 1992 and their house was overcrowded with family so they decided to spend their wedding night at The Old English Inn. They laugh about it for sure, butt hey never would have imagined one day owning the motel where they spent their wedding night. His response was "You are kidding, right? "Well, when Greg came to the office, Gene didn't hesitate and off the two went to look at The Old English Inn. "We also knew some friends of ours Bern and Tricia Stearns were interested in investing in Wedowee as well. At the time Tricia was thinking more farmer's market than motel," Ramonda said. "But everyone was game for this new adventure and we had a contract on the property in probably less than a week. That was in February of 2021, the team really were hopeful to re-open by summer but that didn't happen. "I visualized what we have now," Greg said. "The lobby got me pumped right away. And how it could be more open. I could see walls being torn down and the wash area being taken away. My vision really came to life there and it was great to experience." The renovation did not come with out obstacles. Many of them to be exact. "I remember thinking we could wait on the lobby until the end, but then we saw that the front wall wasn't attached to anything and sort of just swinging. We knew it needed immediate attention," Ramonda said. Basically, the whole structure was gutted from the foundation up in some places.
"We spared no expense," Greg said. "As we dug in, we continued to find things that needed to be corrected. We updated everything! From pumping more concrete to level the floors to adding additional hot water heater pumps to ensure hot water throughout the facility. "The 14 room motel went through a floor to ceiling renovation that spanned 10 months and opened in November 2021 to the public. "How many people go to a motel and get decorating ideas," Greg said. "The ladies all took rooms and had a great time decorating each of them. "Dividing up the rooms with unique decorating styles paid off in the end, considering the supply chain issues that caused delays in most everything for 2021."An original idea was to do all the rooms the same, but I just didn't think that would work," Ramonda said. "Because we were having such a hard time finding things due to the supply chain. Plus, decorating them uniquely creates a big part of our charm here at Old Waters Inn." All six partners have been involved throughout the renovation and have relied on each others strengths to get the job done. "The way it worked for us so well is that our strengths were different," Kim said. " Greg had his role because he had the time and knowledge to be the foreman.
Gene and Bern were great at the numbers. Gene was a connector for sure. He has been here so long he knew who to call to do what. "Old Waters Inn has been well received in the community and it has definitely made an impact in Wedowee."It has been a labor of love and you can feel it when you walk in the doors," Greg said. "It has been such a great feeling for everyone to be so receptive to what we are doing. The open house was packed and we were worried that no one would bother to show up. We never expected the town to receive us the way they have." Just because we weren't born here doesn't mean we don't love this place," Ramonda said