Fly Fish in Alabama? Absolutely, You Can!
---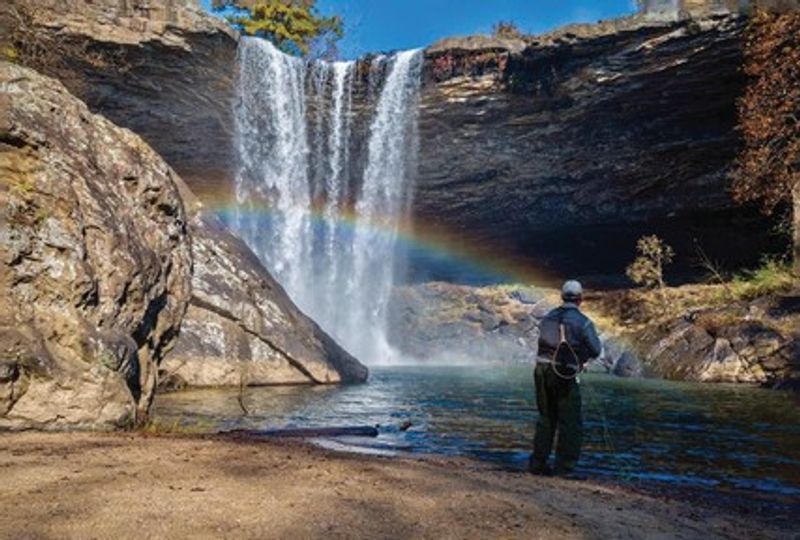 Many fishing enthusiasts dream of the day they can land that rainbow trout, it's a bucket list item for many, and until a few years ago most had to travel out of state to check it off their list. Since 2019, the city of Gadsden has been stocking the sought after fish in Black Creek, which runs through Noccalula Falls Park. The creek eventually flows into the Coosa River. "We have a really active group of fly fishermen in Etowah County, "Greater Gadsden Tourism Director Hugh Stump said. "They travel often to fish in other states and some of them thought that Black Creek could hold rainbow trout, so we tried it and it worked!"
Rainbow Trout prefer colder temperatures than can be found in the typical Alabama stream, so the species is not native to the area. However, thanks to a joint effort by the city of Gadsden Parks and Recreation Department, along with partners from the Rainbow City Fly Fishing Club, Greater Gadsden Area Tourism, and State Representative B. Craig Lipscomb trout fishing is available in Black Creek at Noccalula Falls Park. According to the website, the goal is to give anglers a beautiful scenic setting to fish for Rainbow Trout in North Alabama. This group works each year to make improvements on the project, and give a better experience each year."Noccalula Falls cascades over 90 feet in the Black Creek ravine," Stump said. "It's probably four or fives miles by water from where we put the fish to the Coosa River. "Stocking the fish worked and the anglers from all over the state and beyond are taking notice.
"People are really excited to hear about another opportunity to fish for trout in Alabama," Stump says. "We are seeing tourists come to town, spend the night and fish. People are coming from all over the Southeast, not just Alabama, to fish for trout. We're selling more permits each year. "There is also a social media following for fly fishing Black Creek. One of its members was quick to point out there are more opportunities to fish than just the rainbow trout. "The fly fishing culture in Alabama is growing and a large part of that is due to people realizing that you can fish for more than just trout on a fly rod," Kevin Asbury said. "Couple that with a growing appreciation for the biodiversity we have in the state and it's a perfect region for chasing multiple species on the fly. "To fish Black Creek, anglers need to buy the regular Alabama state fishing license, plus a trout permit from the city of Gadsden. Money raised by the sale of trout permits allows the city to buy and release more fish. Anglers fishing Black Creek must use only fly tackle with barbless hooks on artificial baits and must release all the trout they catch until the spring. After the water warms sufficiently in the spring, the city will allow people to keep up to five trout per day. "Local fishery biologists tend to think that the trout do not hold over the summer here because the water gets too warm, but I've seen pictures of people with trout in the summer," Stump says. "I think a few of them might survive all year. The system has some pools down in the gorge that are shady all day long. They might get in that water and stay there, but we haven't done a biological survey of it."
To reach the creek, anglers must hike down a trail to the gorge. People can bring waders to fish in the creek if they like. If not, they can find many places to fish from the bank or boulders. The best fishing typically occurs closest to the falls. "The gorge is pretty deep," Stump warns. "It's a bit of a hike down there, but that's part of the adventure. It's a very scenic place. In the future, we might add a set of steps going down into the gorge to make it a little easier. That way, people won't have to struggle carrying a rod and tackle box while hiking into the gorge. It's not an easy walk. We're just really excited about giving people something else to do in Gadsden. That's a good thing.
Anglers can buy city trout permits at the Noccalula Falls Campground office or online at flyfishgadsdenal.com. Permits cost $9 a day, or $11 for three consecutive days. Anglers can also buy a season permit for $30.For more information, contact Greater Gadsden Area Tourism at 256-549-0351 or 888-565-0411. Visitgreatergadsden.com or find them on Facebook.
Thank you to the members of Fly Fishing Black Creek on Facebook for providing pictures for this article.